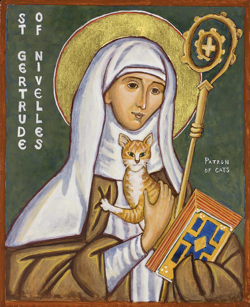 This is basically just going to be an update on things, mainly to discuss recent magickal spells I have worked with. Let's start with the funny one:
My sister is catsitting, and the owner of this furry house guest hasn't surfaced yet to collect his animal. The cat is spraying all over her apartment, her allergies are acting up, and things have become a bit of a conundrum at her end. Since this animal is too dignified for diapers, my sister asked me to work some magick on the situation. I had been out of town for several days, which I'll get to later on in this post, but when I got home I used a basic candle spell with some intention objects to make sure the cat stops spraying everywhere, and that things go smoothly, that the owner resurface, collecting the feline. Some of the sources I prayed to for this included St. Gertrude (the patron saint of cats), St. Francis of Assisi, Sekhmet, the Great Goddess, Christ, and the Spirit itself. Today I got a message that things seem to be turning around, so I guess it worked, as the cat only sprayed one more time, and then stopped. My magick works!
I also cast a spell to try and work with healing and freeing myself of all remaining complications, something I was doing with prayer and through other means, but I also wanted to try with a candle spell. I must now wait things out for this one, it's still underway. I am doing much better as of late, marijuana has helped immensely with my mind. I got the message that things will be a little wonky regardless of what I do, for a while, until enough time has passed, after what I have been through. The demon destroyed the structure of my mind, and it has been rebuilding, a lengthly process. My prescription marijuana appointment is tomorrow, and though I finally tried a vape I find it just isn't spiritually the same thing as it is when smoking it, so I may have to just accept my lungs will be funny for a while, until I no longer need this. But the brain feels splendid.
So, I was out of town for my stepdad's 80th birthday, and we had a social distancing party to celebrate. It was a surprise party, Mom had organized that a line of cars pass by the house, honking and giving out presents. It was very touching for him, and eclipsed the Kitchener-Waterloo area Oktoberfest parade in some ways, but that's no real stretch because Oktoberfest is not very interesting as far as parades go. I did some readings on the two felines there and Luigi the big black cat is only on his first life, hence why he is not the brightest. Lola, the ghost tabby, has psychic powers, can sense spirits, and got this from her last life, where she was a human. Something went wrong, and a dark force she was working with in that society caused her karma to go strange, so she returned as a house cat, and is not nuts about it. The reading went on to say that she's not impressed when people talk down to her like an animal, but will get used to it, midlife, and return as a human again after this life. Karma's a bitch!
Also while I was out of town, I got caught up a little on 'Orange is the New Black' episodes, a show I was slightly into because it is about institutional living, even though it's prison, not the mental hospital. I sometimes feel I lived 'OITNB', Thorazine edition, with the way my life went for a while. Analyzing the characters, I see Nicky in my persona, and Yoga Jones in my soul. My favourite character by far is Pennsatucky. Though in this show the most beloved characters are the inmates, it doesn't translate so well in the real world, and I wonder how much I am still secretly judged because of my past. I have to go the extra mile and be Wonder Woman to live a semi normal life in the social sense. Oh well, it taught me patience with humanity, and resilience.
I'm starting RCIA classes soon, just out of curiosity. This is basically Catholic class. I think they would find me too wild for their church, but it's worth getting some insight into the religion anyway, perhaps even just for personal practice, if I don't choose to confirm. A close friend is taking them with me, even though she's already in the church.
Hope that the cat pee spell continues to work! :0
-Saraƒin