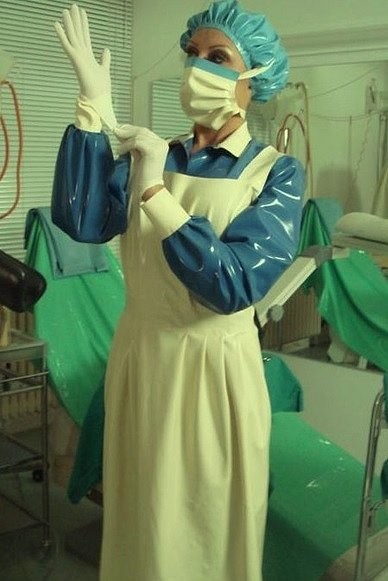 The upside of a pandemic: an excuse to dress like THIS!
A lot of people are talking about this right now, and it's true - though quarantine can be a bitch, in another way, it's a beautiful opportunity for the busy westerner to settle themselves and learn to look inward, to see who they really are, confront their shadows, and find joy in simplicity. I have been doing this myself for almost 14 years, so this lockdown stuff is not a big deal to me. The only thing I really miss is shared human company, like having friends over for wine, cheese, and board games. Online Zoom meetings are ok, but it's just not the same as real life. But, the friends are still there to chat - there was a time in my life that was much lonelier, when people either backed away or cut me off entirely because of the sufferings in my life, and how they affected my relations to others. In a way, this is like an extended staycation to me - I got my CERB and things seem to be balanced for me financially. I just have to lay low, not spend too much, and concentrate further on my soul, as always. (I joke that, being a Taurus, I am built for quarantine, because I like lying around, eating comfort food, and having the same predictable daily routine - Tauruses like repetition.)
I think I saw both David Lynch and Eckhart Tolle mention how marvelous this time is for going inward and getting in touch with one's own nature - many people have remarked on this. It seems like this is not just about a virus, but a mass awakening the planet is experiencing. Haven't been able to take up a contemplative method or meditation routine? Now's your chance - some may never get the opportunity to jump start this again, depending on what their future holds. Humans who have overly busy minds should seize this opportunity as a means of learning how to seek the self, and discover the joys of a simpler way of being. The capitalist west has been a difficult place to dedicate oneself to living as a sincere seeker, so here's a chance to see what that's like. Nature is showing us the way - let's listen to Her.
I've had a few annoying days where the loneliness was kicking in, but all in all, I have grown used to the new routine. As long as my CERB keeps getting topped up and I maintain a steady equilibrium, I'm going to be ok. My concern is for small businesses and people who are not in as fortunate a balance as I am. Though I am not exactly financially well off, I am at the right level of "poverty" where supports flow, I have no debt, and I can find avenues to navigate times like this - someone who relies on a family business could be in trouble. I do hope the government learns from all of this, both on federal and provincial levels - it would be nice to come out of this with the strong possibility of universal basic income. If push comes to shove, it may be the only option to maintain a homeostasis in society in some ways. Sometimes it takes a need, like a crisis, to forge something ahead.
-Saraƒin
UPDATE: This article came up on my Facebook feed, which relates to what I discuss in this blog post:
We're All Monks Now