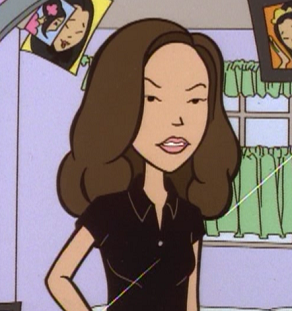 It's not quite Wisconsin-esque nerd girl goofball that my voice became... it's Sandi Griffin from Daria. I had to do an entire shift at work with a nasal-y sexiness that was awkward but very cute... then I went to karaoke.
By the time I arrived, my voice had basically reverted to a more standard sounding version of itself. I tried my hand at some diva tunes ("Deeper and Deeper" by Madonna, "Finally" by Ce Ce Peniston, and "Money Money Money" by ABBA), and was amazed at how much better I was able to sing them. (I used to be a terrible singer, and with practice I became a mediocre one... I am much better at rapping. But tonight, I had better range, more strength in my voice, and more control of my vocal cords.)
I didn't mention this on here, but there was a prayer I had uttered rather recently, to the Goddess, to improve my singing capability. Were these strange vocal fluctuations something changing in my vocal capacity? Time will tell, I suppose.
Anyway, here is the Sandi Griffin voice, if you want to know how quirky I sounded - this is literally what my voice was, at least for a time:
Not sure if the Sandi Griffin voice is my new voice or not, if it's going to switch back again, or if it's just a weird phase in something shifting, but the weirdness continues! Never a dull moment, really.
-Saraƒin
UPDATE: My analyst confirmed that as the Self begins to present itself in an individual, this can affect speech in some ways as well. So there's that to consider too.